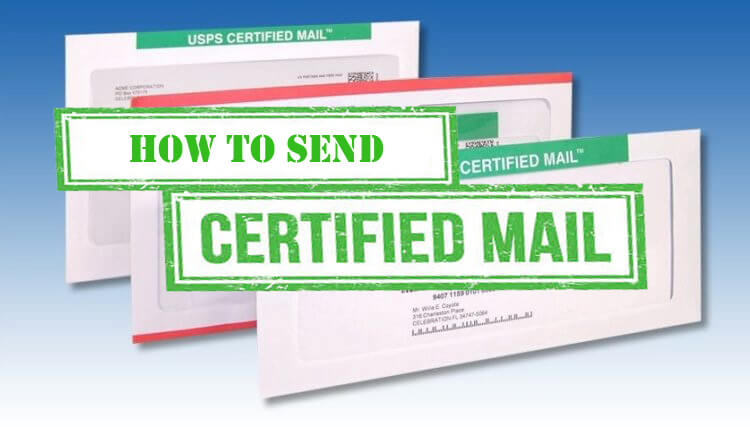 Are you looking for send certified mail, now you are in right place. Today in this article we show you how to send certified mail by post office and how to send certified mail online for our readers.
Certified mail is a special service offered by the United States Postal Service(USPS). It provides proof of mailing via a receipt to the sender. With electronic USPS Tracking, the sender is notified when the mailing was delivered or that a delivery attempt was made.
A certified item needs a delivery signature; it can't be left in a mailbox or on a doorstep. Certified mail is only available on first class mail. USPS lets you get a signature from the person who received the mail, such as a receptionist.
Customers can also add a Return Receipt service (electronic or physical) to their Certified Mail mail piece. This service will deliver a copy of the recipient's signature to the sender. The Electronic Return Receipt option shows the recipient's signature via email. The physical Return Receipt option is a postcard mailed to the sender that contains the actual recipient's signature providing proof the mailing was delivered or that a delivery attempt was made.
How to Send Certified Mail USPS
---
Certified mail provides you with proof that you sent a letter on a certain date at a certain time. You can send Certified mail via post office or online. Now a days it is very easy to send certified mail without return receipt. Below two methods shows you steps to send certified mail with return receipt or without return receipt.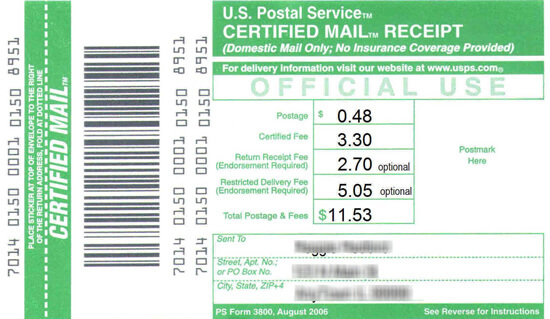 Method – 1 : How to Send Certified Mail From Post Office
Go to a local post office and obtain a Certified Mail Form 3800. This form contains a green and white sticker that has a barcode that will allow you to trace your mail.
The form also contains a perforated receipt, which serves as proof that you mailed the item. Write all of the required information on the form like as recipient's name and address etc.
Peel the thin white strip and place the sticker immediately at the top center of the envelope. Make sure to leave a 3.5 inch space directly to the right of the return address area.
Pay the appropriate postage amount for the kind of mail delivery requested, as well as any additional services that may be required.
Then, Choose whether or not you wish to pay for a restricted delivery service. It guarantees that a specified person receives and signs for the certified mail.
Choose whether or not you want to pay for return receipt service. It provides you with a receipt that gives you the certified mail recipient's signature. You can get it via email with pdf image or as a physical receipt via snail mail.
Collect and keep your receipt that has been stamped with the mailing date. You may check the status of your mail delivery online using a number that is unique to your mailing.
View the delivery details. Go to the postal service's website and check online when and to whom the certified mail was delivered. The recipient must sign for the mail upon delivery, and the post office keeps a record of this signature.
---
Method – 2 : How to Send Certified Mail Online
Sending Certified Mail online is easy and only requires access to a computer and the internet. Here we discuss how to send certified mail online. To send Certified Mail online free, follow below steps:
There are many web pages that offer USPS Certified Mail delivery. You can sign up for free, shouldn't have to pay any monthly fees for an account.
Look at the price for sending Certified Mail. If the price is reasonable, you will pay for it.
Make sure that the service offers next-day USPS tracking for your letter and check that the service provides proof of mailing and USPS proof of delivery.
Prepare your letter for mailing. Print the letter and sign if needed.
Scan the document and upload it on the mailing web page.
Now the service will print and mail the letter on the same business day. On next-day you can get tracking of your mail.
Keep a copy of your proof of mailing as well as the USPS proof of delivery.
Best Online Certified Mail Service are Given Below
---
FAQs
How do I send a letter certified mail?
To send certified mail, follow any one of above method.
How Long Does It Take To Deliver Certified Mail?
Generally, certified mail delivery time will depend on the class of mail. First Class letter or package will arrive within 2 to 5 business days. Priority Mail letter or package will arrive within 2 to 3 working days. send certified mail online free.
How do you send something Certified Mail USPS online ?
Follow method 2 to send certified mail USPS Online.
How much does it cost to send certified mail 2021?
As of August 29, 2021 it will cost $7.38 to send a First-Class Letter as Certified Mail with a hard copy Return Receipt:
$0.58 for the Postage
$3.75 for Certified Mail fee
$3.05 for Return Receipt Hard Copy
Does Certified Mail Require a Signature?
A USPS certified mail needs a delivery signature. It can't be left in a mailbox or on a doorstep. Remember that someone must be available to sign for each USPS Certified letter. If no one picks up the letter after 5 to 7 days, USPS will leave a second delivery notice.
Which is Cheaper Certified or Registered Mail?
Certified mail is cheaper, while registered mail costs more.
How to Send Certified Mail From Home ?
Follow method 2 to send certified mail from home with return receipt.
How to Loop a Video on iPhone.
Conclusion
In the past, sending certified mail was a long and hard process, involving filling out forms, sealing them, and taking them to the post office. Now, you can send hundreds of certified mail with electronic return receipt in just a minute through online. Send USPS certified mail using above steps. If you have any queries on sending USPS certified mail, let me know on comment box.
Thanks for Reading..!!!