Are you looking for make a video loop on iPhone, now you are in right place. This article shows you how to loop a video on iPhone for our readers.
Looping is a programming element that repeat a portion of code or video a set number of times until the desired process is complete. Nowadays, we can see many people posting their looping videos on their social media like Facebook, Instagram, Snapchat, TikTok, etc. These looping videos are entertaining us, fascinating and fun to watch. This is a feature allows users to create short-form GIF videos that play back-and-forth repeatedly to make them more fun to watch.
A loop is a popular element in photography and especially music videos, the idea being that the camera appears to magically repeat itself as many times as there are photos or frames showing the action. They can also simply recur a sequence a certain number of times, then stop. They help you add style to simple motions or add emphasis to instructional footage by showing them again and again.
Now lets go to learn about how to loop a video on iphone for instagram, etc. with and without an app.
How to Loop a Video on iPhone 2023
---
Some people don't know how to make looping videos still now. So in this article, we are going to discuss how to loop a video on your iPhone with and without the Looper app, as well as how to create a short looping video with Boomerang. This section explains you how to loop a video on iPhone without an app. Lets started,
Loop Video on iPhone Using Repeat Slideshow
Slideshow videos are a great method to get people interested in your material. People gather around a television to reminisce about the good times they had in their lives. This tutorial will show you how to loop videos on your iPhone.
To begin, browse your gallery and select a video or photo to turn into a slideshow.
Put the video in an album in your gallery and rename it whatever you like.
Now go to "Settings" and select the "Repeat Slideshow" option under the "Photos" section.
Now, open the video and let it play.
That video will begin to play in a loop until you stop it.
---
How to Create Loops of Live Photos on iPhone
With Live Photos, you can modify your photos by selecting a frame that you personally like or create infinite looping videos that play back-and-forth. Make sure that the Live Photos saved on your iPhone, before you creating a loop.
To view all the Live Photos saved on your iPhone, open the Photos app on your iPhone
Go to "Albums."
Tap Media Types.
Select "Live Photos."
Now, you can see all the pictures on the next screen. To create a loop, select pictures from this list.
Now, the picture will open on your screen and you can tap and hold anywhere on the photo to see how it plays.
You can see the "Live" option on top-left corner; the selected photo is suitable for looping video, then tap on "Live Photos" option or move to another picture you like.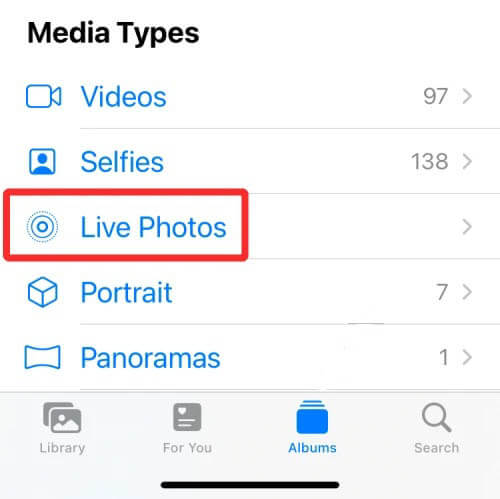 Select the "Bounce" to create a back-and-forth clip. Bounce effect will start playing the Live Photos in a GIF-like loop. (The "Loop" option will put the series of frames in a one-way order, so the video may not look like you imagined.)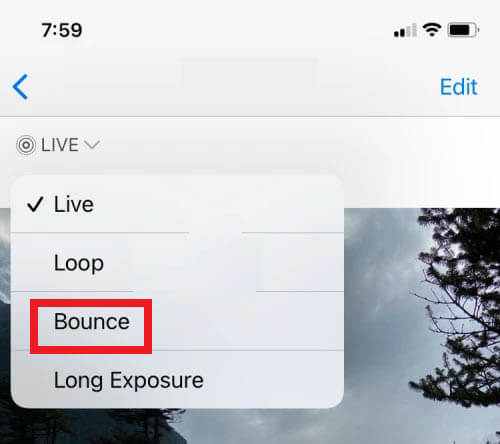 Tap the "Share" icon at the bottom left corner.
Select the "Save to Files" option.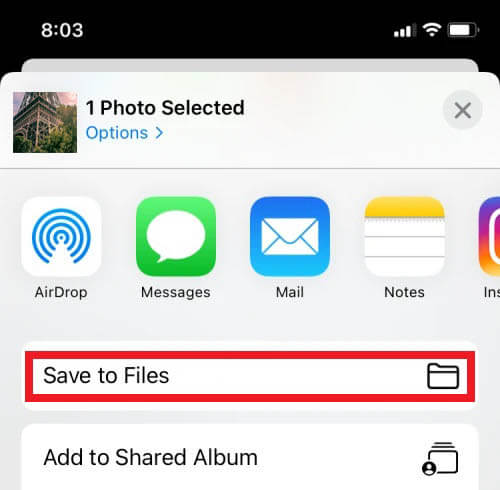 Save the loop video to done the process.
---
How to Loop a Video on Your iPhone Using APPs
There are so many looper apps available for android and iOS devices in market. You can download it from playstore or appstore and make a funny looping video.
How to Create a Looping Video with Boomerang.
Boomerang is a free app you can use to create a short looping video from 10 quickly-captured photos. To do this,
Download Boomerang app on your iPhone from AppStore.
Once you downloaded, open the Boomerang app.
Swipe left the welcome screen and tap "Get Started" at the bottom of the screen.
Tap "Allow" to Boomerang access your camera.
Give permission to Boomerang access your device and follow instructions.
When you finished setting up your permissions, the Boomerang starts up using your selfie (front) camera.
Tap and hold the shutter button to record. You can record shot with both front or back camera, and if you want toggle on or off the flash.
Once you recorded the final shot, your looping video will appear. You can share this looping video on Facebook or Instagram, etc.
Tap "Save" at the top-right corner of the screen. This saves the video to your Camera Roll.
---
How to Loop Videos on iPhone Using Looper
Looper is the only free App that lets you repeat videos on your iOS devices or on an external screen infinitely and export a playlist of your favorite videos with a number of repetitions. To loop videos on iphone camera roll, follow below instructions.
Download Looper app on your iPhone from AppStore.
Once downloaded, open the Looper app.
Tap "+" icon at the top of the Looper screen, then the pop-up menu will appear.
Select "Camera Roll". It will takes you the Camera Roll.
Tap All Photos when prompted. Your iPhone's camera roll will open.
Select a video you want to loop.
Tap "Choose" at the bottom-right corner of the screen. It opens the video in Looper.
Next, tap the red repeat button at the bottom-right corner of the screen.
Drag the slider to right at the bottom of the screen. Once the large white knob appear in the end of the line, you will see the words "Play clip indefinitely" above the slider. This means the clip will loop 50 times (the maximum amount).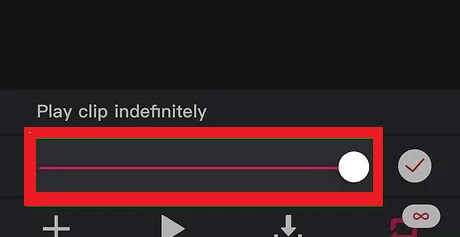 If you want to have your video loop a few times, don't drag the slider to the right; instead, drag it until you see "Play # Times" with your preferred number of loops.
Tap the "check mark" at the far-right side of the slider.
Then tap the "Download" icon at the bottom of the screen.
Tap "Yes".
Select an orientation, either Portrait or Landscape depending on your video vertically or horizontally.
Tap "Yes", it will store a video in your Camera Roll.
Choose "Ok" when you see the "Success" message.
Now you can see the looping video in the Photos app.
---
How to Loop YouTube Videos on iPhone
Can you repeat YouTube videos on your iPhone? This section will describe how to loop youtube videos on iphone,
Open YouTube on your iPhone and log in to your account(skip it if you already logged in).
Now go to the "Search" option and search video you want to loop.
You must add the video to playlist. To do this, click and hold on the video to bring up a tiny menu, then select "Add to" to create a playlist. Another way is play the video, then scroll down to the extreme right and select "Add to" from the drop-down menu and give the name for playlist.
Return to the main page of YouTube.
Then tap "Library" at the lower right corner of the screen, and then choose the new playlist you created.
Start playing the video, then click on the drop-down button.
On the left side of the drop-down screen, there is a loop button; tap on it, and the loop will begin to play indefinitely.
Another Method to Loop a YouTube Video on iPhone

Open the YouTube on your iPhone and search the video you want to play repeatedly.
Play the video.
Click the three vertical dots.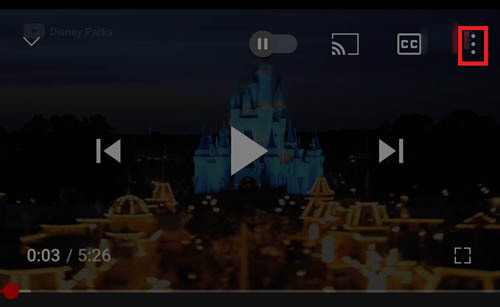 Tap on the Single Loop button, and the video will repeat automatically.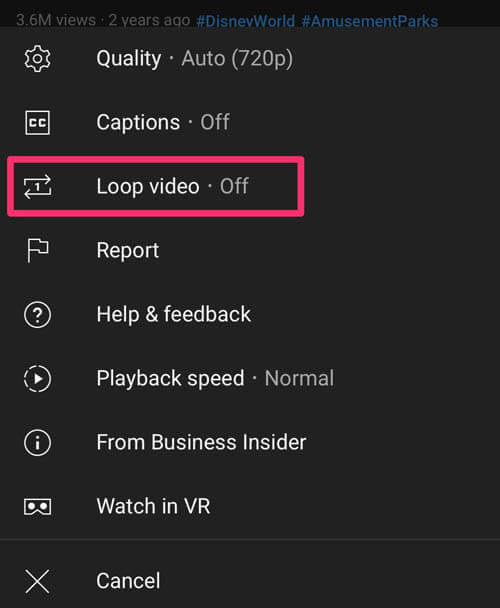 Also Read : How to Block Websites on iPhone.
Conclusion
With the above methods, you can easily loop a video on iPhone 11 including repeating a YouTube video on iPhone. Choose any method and let your iPhone loop video. We hope that this article how to make a video loop on iphone 12 is useful to loop a video on iphone camera roll (loop a video on your camera roll iphone).
Thanks for Reading…!!!