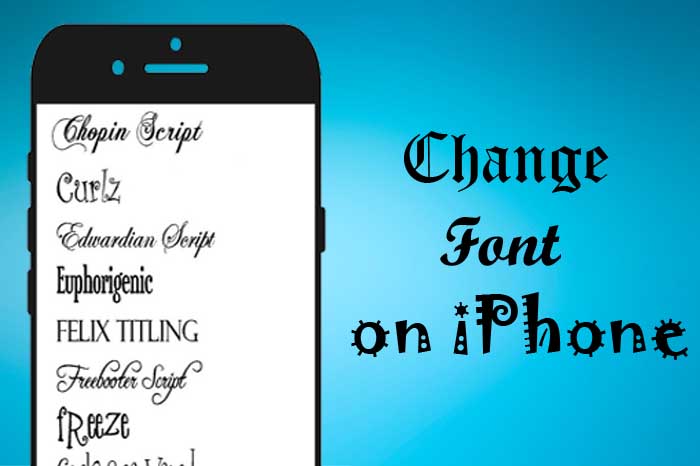 Are you bored with old fonts on your iPhone and looking for change font style on your iPhone, now you are in right place. Today this guide explains you how to change font on iPhone for free.
Many of you have the question that "How do you get different fonts on iPhone?" "How do I change my text font?". Unfortunately, this is not possible with iOS devices, as Apple didn't really provide this feature. Luckily, Apple lets you install, manage, and work with custom third-party fonts on your iPhone or iPad. The process is little hard, but the effort is worth for font.
Now let see how to change font on iPhone..
How to Change Font on iPhone
---
By iPhone's default settings, you can only change the font size only. iPhone's settings can't allow you to change font on iPhone. But, with the help of third party app you can change your iPhone fonts as your wish.
Change Font Size
You can only decrease or increase font/text size and bold/un-bold fonts through the settings. This is the only legitimate way to change your iPhone's font.
To change font size, go to Settings.
Tap "Display & Brightness".
Then select Text Size.
Drag the slider to adjust the font size you want.
To Make The Font Even Bigger
Go to settings.
Tap "Accessibility".
Then select Display & Text Size.
Tap Larger Text for larger font options.
Drag the slider to select the font size you want.
Go back to your settings and adjust the font size as needed.
Note : Making the text too large might make it hard to tap buttons or other functions within apps.
Another Method to Change Font Size
Tap the Settings app icon on your iPhone.
Scroll down and tap "General".
Tab "Accessibility", you'll find it near the bottom of the screen.
Select "Larger Text".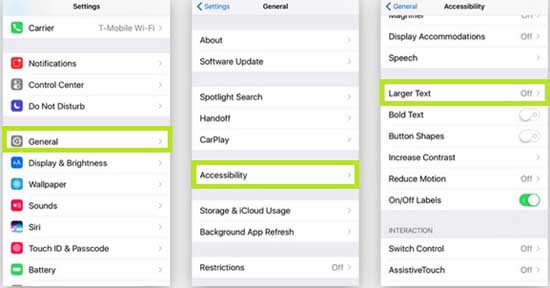 Tap the white "Larger Accessibility Sizes" switch Image and it will turn green, and the slider below it will expand to show additional size options.
Drag the slider and adjust the text size.
Apps to Change Font on iPhone
---
The iPhone has lot of apps that can provide optional fonts to use. You can install custom fonts and apply them to compatible apps on your Apple mobile devices. Here we give some apps to change font in iPhone for free.
After you download an app containing fonts from the App Store, open the app to install the fonts. To manage installed fonts, go to Settings > General, then tap Fonts.
Fontix App 
Download Fontix app on your iPhone from App Store app. This also has an extensive collection of cool keyboard themes and emojis.
Launch the Fontix app on your iPhone.
Tap the Settings button in the top-right corner of the screen.
Then tap on Fonts.
Under the Select Font list, select your desired font style.
Tap Done.
Whenever typing in an app, hold the Globe icon on your keyboard and select Fontix for using your new font.
Afterwards, you can change fonts directly from the keyboard.
Jailbreak Your iPhone to Change Fonts
If you can't jailbreak your iPhone, you can't change the font. Jailbreaking is not possible on some versions of iOS, you can't change the font on your iPhone.
Open Cydia on your iPhone after jailbreaking. When you launch Cydia first time after jailbreaking, automatically it will update and restart your iPhone.
Type "BytaFont" in Cydia Search Box. This app for your jailbroken iPhone is available for free.
Install the BytaFont app. After installation, your iPhone will automatically restart.
Launch BytaFont and it will allow you to download and install new fonts for your iPhone. You'll find it on one of your Home screens after installing it in Cydia.
To add fonts to BytaFont, tap the BytaFont tab. Browse for fonts and find the font you want to install and tap Download. Use Cydia to finish installing the font.
Once done the installation of some fonts, you can switch between them to replace your iPhone's system font. To do that, open BytaFont and choose the Swap Mode tab. Then tap the Basic option and tap the font you want to use. Tap Yes to confirm. Your iPhone will restart and the font will be applied.
Use AnyFont App to Change Font on iPhone Without Jailbreaking
Search the font you want to use on your iPhone and you can download the font for free from many websites.
Your iOS device has a feature "Open in…" and it will allow you to install the font to your device. Otherwise after downloaded, email the font to yourself as an attachment to allow you to install it in your device. Tap on the attachment and choose "Open in…" and choose AnyFont.
Before you install the font, you need to install a special certificate. Once done, you can install the app.
To allow the apps to use the fonts you installed, just close and restart it. Now you can use the installed font on your iPhone.
Also Read : How to Move Apps on iPhone.
Final Words
If you want to change your font style on your iPhone, definitely this article is useful to you. With the iPhone's settings, only you can decrease and increase the font size and bold the font. The best way to add custom fonts is through third-party fonts keyboard apps like Fontix. If you have any queries related to this article, don't hesitate to leave it in comment box.
Thanks for Reading..!!!