Here you can learn about how to share your WIFI network password with friends and family. To share your WiFi password on an iPhone with another Apple device, you no longer need a third-party app. With iOS 11 or later, you can share your WiFi password by simply selecting the WiFi network on the other device, and then holding it near your iPhone. The password will automatically be shared via Bluetooth. This feature works with other iPhones, iPads, and Mac computers running macOS Sierra or later.
It's important to be selective when sharing passwords, as sometimes it's not necessary or advisable to do so. However, there is a way to allow other devices to connect to your WiFi network without manually sharing the password. This method uses an iPhone to share access to the network without revealing the password.
How to Share WIFI Password on iPhone
---
Do These Steps to Before Sharing WIFI Network…
Make sure both devices have the latest version of iOS or macOS.
Turn on Wi-Fi and Bluetooth on both devices.
If either device has personal hotspot on, turn it off.
Sign into iCloud with your apple id.
Make sure that the email address you can use for your apple id is saved in the other person contacts.
Keep the other person's device nearby within the Wi-Fi range.
How to Share WIFI Network on iPhone
Make sure that your device that the one who sharing the password is unlocked and connected to the Wi-Fi network.
Go to Settings on your iPhone.
Select Wi-Fi network on the device you want to connect.
On your device, you can see the alert pop-up that if you want to share your WIFI password, Select "share password."
Select done.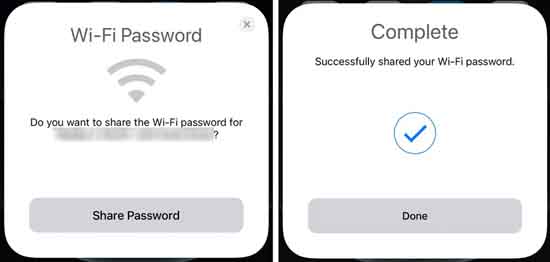 Sharing Your WIFI Network on Your Apple Devices
Update your device to the latest iOS or macOS version.
Turn on Wi-Fi and Bluetooth.
Add your iCloud address to the contacts of the other devices.
Keep the other person's device nearby within the Wi-Fi range.
Select the Wi-Fi network you want to connect to.
Click share password.
How to Share a Wi-Fi Password on Mac
Make sure that your mac is unlocked or not. If not, unlock it.
Turn ON WIFI network on your mac and signed in to your apple id.
Check whether the other person's apple id is in your contact list.
Move the other person's device close to your mac.
Choose the WIFI network.
On your mac ,wait a moment for the Wi-Fi password notification to display.
When it appears, click Share.
How to Join a Public WIFI Network
On your device, click the Wi-Fi icon.
Select the network you want to join.
Enter the password for the network.
Select join.

share wifi password on iphone macbook.
Join a Hidden WIFI Network
On your device, select the Wi-Fi icon.
Click the other network.
Enter the name of the wireless network in the network name field.
Select the security pop up menu and choose the type of wireless security the network uses.
Enter the information for any additional fields that are displayed ,such as a username and password.
Click join.
Read : How to Change Hotspot Name on iPhone.
Well, now you know that sharing your Wi-Fi network to others is pretty simple from here. Now you can share WiFi from your iPhone with another Apple device and you won't have to tell your WiFi password to anyone. If you have any queries related to this guide, let us know via comment box.
Thanks for Reading…!!!