Are you looking for reset a forgotten password or change an existing voicemail password on your iPhone, now you are in right place. Today this article explains you how to change voicemail password on iPhone.
A voicemail system is a computer-based system and it is a method of storing voice message electronically for later retrieval by intended recipients. The recipient can retrieve the stored message through phone, desktop, email and other communications devices.
A voice mail that allows users and subscribers to exchange personal voice messages; to select and deliver voice information and to process transactions relating to individuals, organizations, services etc., voice mail can be very useful, especially when you start thinking about different use cases. For businesses who know how to use it wisely, the benefits are hard to miss. Voice mail enables you to deal with all your calls without missing out on anything and to act on them accordingly.
How to Change Voicemail Password on iPhone
Nowadays, you can reset your voicemail password with just a few taps. Here we explain four ways to reset/change voicemail password on iPhone.
1. Change Voicemail Password
IF you forgot the password of voicemail then how do you change the password follow the below steps:
Open Settings on your iPhone.
Scroll down and select "Phone".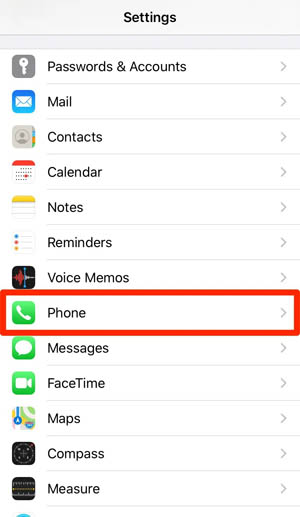 Hit the "change voicemail password" option.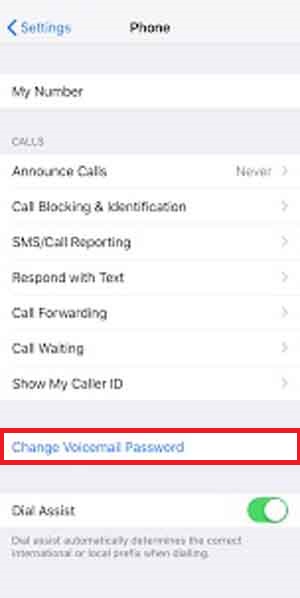 Enter the current voicemail password and select "done" option.
Type the new password and tap "done".
Re-enter the new password.
Select "Confirm" to change your voicemail password.
2. How to Reset Voicemail Password Using My Verizon
There is no way to reset the voicemail password directly on iPhone. But luckily some other apps allow you to reset the voice mail password. You can also use My Verizon app to rest your voicemail password. For that method you need to My Verizon account. If you don't have, first of all sing up for My Verizon. To reset voicemail password, follow below instructions,
Log in to My Verizon app.
From the My Verizon home screen, select "account."
Click on "my devices" and then select "device overview".
Select manage device below the applicable device.
From the "manage voicemail password" section, click "manage".
Now, you will be presented with the following options: I will create my own password and choose the new password for me.
Select any one of them.
Enter the new password into the following fields: Create new password then, Confirm new password.
Next, Click confirm.
Also Read : How to Send Certified Mail on iPhone.
3. How to Reset iPhone Voicemail Password on AT&T
You can reset the voicemail password from AT&T online account. To change or reset your voicemail password, follow below steps:
Go to reset voice mail password page on AT&T online page.
Your phone number will display and you can only reset your voicemail for that number only.
Click submit button to get temporary password to reset your voicemail password.
Another options to reset your voicemail password from the app for iPhone using MY AT&T app.
Open the app to make changes the voicemail password.
Select on reset voicemail password option.
Select on the reset button to perform the reset for your voicemail password.
Change the password manually from your phone by yourself to a memorable password.
4. Change Your Voicemail Password Using IVR
IVR stands Interface Voice Response. To change your voicemail password Using IVR system you must know your current voicemail password. If you have forgotten your existing  voicemail password, you will not be able to reset your password. Follow below steps to change your voicemail password:
From the Keypad tab of the Phone app press and hold the 1 key.
Enter your current voicemail password.
Dial 4211.
Enter your new desired voicemail password.
Follow our walkthrough above to find out how to change voicemail password on iPhone and get some useful tips that will help you to reset voicemail password. If you will face any issues while changing voicemail password, ask us in the comment box.
Thanks for Reading…!!!