Are you looking for cast your iPhone to TV, now you are in right place. Here you can learn about how to use Chromecast on iPhone.
Chromecast is a line of digital media players developed by google. Chromecast is a technology that lets you stream your favorite entertainment and apps from your phone right to your tv or speakers. It's a streaming device that wirelessly connects your smart-phone, tablet or computer to a high-definition monitor.
How to Use Chromecast on iPhone
---
Google Chromecast is designed to make the most of the apps and entertainment already on your phone. Turn your TV into a smart TV to enjoy shows, movies, live TV, YouTube, photos, and more on the big screen.
If you have already set up your Chromecast on a mobile devices You don't need to set it up again on a different mobile device if all device are on the same Wi-Fi network.
What You Need to Start the Chromecast ?
If you want to mirror your iPhone to TV, you need the basic requirements. They are,
A Chromecast device 3rd generation or older.
The latest version of the google home app.
A google account.
A high definition television or display device with an HDMI input.
Stable internet connection or Wi-Fi network.
Minimum OS to run the google home app.
A compatible computer or mobile devices.
Subscriptions are required to access certain content.
How to Setup Chromecast
Chromecast allows you project your favorite videos, music, and pictures from your phone on your TV. First of all you need to setting up the Chromecast device. To do this follow below steps,
Plug in Chromecast into an HDMI port on your TV.
Connect your iPhone and Chromecast to your same Wi-Fi network.
Go to the App Store and download the google home app on your iPhone.

Turn on Bluetooth.
Open the google home app on your iPhone.
Sign in to your google account.
Allow the google home app to find and connect to devices on your local network.
Select add (+) button at the top left of the google home app home screen.
Select set up "device".
And select "new device".
Select your location and tap Next.
When the app finds the Chromecast, select Next.
Now, Scan the QR code on your TV.
Pair your iPhone with the Chromecast. Accept all terms and conditions.
Tap Next, if prompted.
Let the Chromecast access your network.
You'll be requested to sign into your Google account. Tap Continue on your iPhone.
Once signed in, Accept the Privacy Policy terms.
Your Chromecast is ready to be used.
Cast From iPhone to TV Using Chromecast
Open the google home app on your iPhone.
Tap the Media icon.
Now you can see the "Manage Your System" section with the options Music, Video, Podcast, or Radio services. Select any one of them.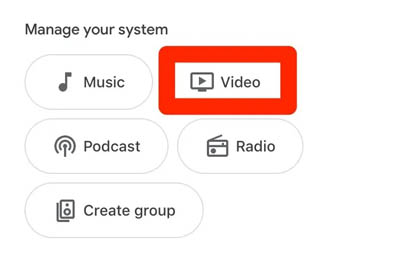 Select  "Link" under the available service you want to add to your iPhone's Google Home app.
Tap "Link Account" in the pop-up. Enter login details if prompted.
Once you done, close the Google Home and tap the streaming icon you just linked to google home app.
Select your favorite videos you want to cast from iPhone to your TV.
Locate the Google Chromecast "casting" icon on your iPhone's screen and select the your Chromecast from the list of available Chromecast devices and begin watching.
How to Troubleshoot Set Up Chromecast
If you face issues while set up your chrome cast follow below instructions,
Reboot your Chromecast.
Unplug your router and Plug it back in.
Connect manually to your Chromecast service set identifier.
Open the settings app. Then, select Wi-Fi and connect to the Chromecast.
Open the google home app and try to set up your device again.
Factory reset your Chromecast.
Contact support.
For More Details Read How to Mirror iPhone to TV.
Follow our walkthrough above to find out how to use chromecast on iPhone and setup chrome cast in iPhone and get some useful tips about Chromecast troubleshooting that will help you to how to use ,setup, troubleshoot Chromecast further.
Thanks for Reading..!!!