Are you looking for save your iPhone's battery.  Here you can find out how to save battery on iPhone.
A lot of things can cause your battery to drain quickly. If you have your screen brightness turned up, for example, if you're out of range of Wi-Fi or cellular, your battery might drain quicker than normal. It might even die fast if your battery health has deteriorated. Update to the latest software, Apple software updates often include advanced energy-saving technologies, so always make sure your device is using the latest version of iOS.
How to Save Battery on iPhone
---
1.

Preserve Battery Life by Adjusting the Brightness
Screen brightness is one of the biggest battery killers out there. Turn on Auto-Brightness to extend your battery life.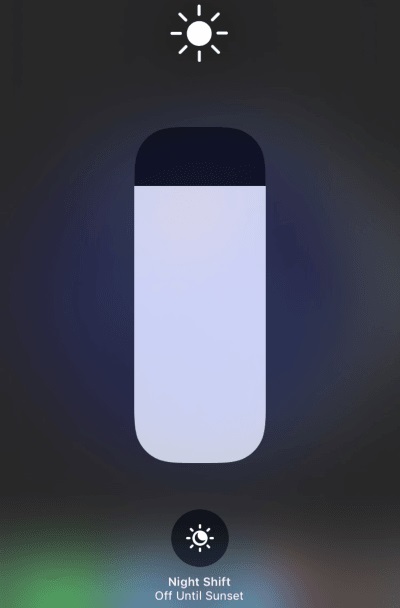 To dim,

Open Control Centre.

Select and drag the Brightness slider to the bottom.

Auto-Brightness adjusts your screen to lighting conditions automatically.

To activate it,

Open Settings on your iPhone.
Select General
Tap Accessibility
Select Display Accommodations and set Auto-Brightness to On.
2.

Preserve Battery Life Using Wi-Fi
When you use your device to access data, a Wi‐Fi connection uses less power than a cellular network so keep Wi‐Fi on at all times. To turn on Wi‐Fi,
Open the Settings.
Select Wi‐Fi to access a Wi‐Fi network.
3.

 Enable Optimized Battery Charging
The Optimized Battery Charging feature is available only with iOS 13 and later. It helps to improve your battery health. To turn on it,
Go to the Settings on your iPhone
Select Battery
Tap Battery Health
Then, turn on Optimized Battery Charging.
4.

Enable Low Power Mode to Save Battery
A high refresh rate requires more energy, so that the great way to save energy is enable low power mode. When your iPhone battery is running low, you can enable low-power mode on iPhone to extended the battery charge.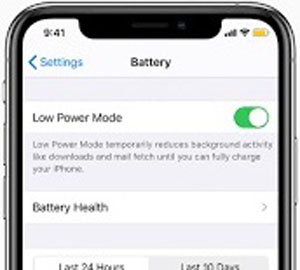 Open Settings on your iPhone.
Tap Battery.

save battery on iPhone 12.

Turn on low power mode button.
5.

 Background Activity
This indicates that the battery was used by the app while it was in the background. To improve battery life, you can turn off the feature that allows apps to refresh in the background.
Open Settings app on your iPhone.
Tap General.
Select Background App Refresh.
Select Wi-Fi, Wi-Fi & Mobile Data, or Off to turn off
Background App Refresh entirely.
If the Mail app lists Background Activity, you can choose to fetch data manually or increase the fetch interval.
Open Settings
Tap Accounts & Passwords
Select Fetch New Data
6.

 Location and Background Location
Apple has built in GPS feature. Many apps will automatically uses your iPhone's location service. It will hurt your battery. You can optimize your battery life by turning off Location Services for the app. To turn off,
Open the Settings
Select Privacy
Tap Location Services
In Location Services, you can see each app listed with its permission setting.
Apps that recently used location services have an indicator next to the on/off switch.
7.

 Turn Off Push Notifications
This indicates that the Home screen or Lock screen was displayed on your device. If an app frequently wakes your display with notifications, you can turn off push notifications for the app.
Go to Settings.
Tap Notifications.

save battery on iPhone 14.

Select the app and set Allow notifications to Off.
8.

 Update Your iPhone to Latest Version
Keep your iPhone's operating system up to date
Open the Settings
Tap General
Select Software Update
If an update is available, you can plug your device into a power source and update wirelessly.
9. Limit Frame Rate to Save Battery on iPhone
High refresh rate drain your battery quickly. Limiting the screen refresh rate to 60 fps instead of 120 can help extend the battery life. To do this,
Open Settings on your iPhone.
Tap Accessibility.
Select Motion.

save battery on iPhone 14 pro

Then, toggle on the Limit Frame Rate option.
10.

Disable Keyboard Haptics
Keyboard Haptics gives you a more enjoyable typing experience. But, it uses power and drain your battery. To turn off keyboard haptics,
Go to Settings app on your iPhone
Select Sounds & Haptic
Then, tap Keyboard Feedback
Turn off the Haptic toggle
11.

 Find Out Which of Your Apps are Using the Most Battery
Go to Setting on your iPhone.
Tap Battery.
Here is a list of apps that are draining your phone the most. There could be seldom-used apps that are sucking away your battery life unnecessarily.
12.

 Avoid Extreme Ambient Temperature
Your device is designed to perform well a wide range of ambient temperatures with 16° to 22° C (62° to 72° F) as the ideal comfort zone. It's especially important to avoid exposing your device to ambient temperatures higher than 35°C (95° F), which can permanently damage battery capacity.
Your battery won't power your device as long on a given charge. Charging the device in  high ambient temperatures can damage it further. iPhone work best at 0° to 35° C (32° to 95° F) ambient temperatures. Storage temperature: –20° to 45° C (–4° to 113° F).
13.

Check Battery Health Frequently
iPhone displays the information about your battery's capacity, peak performance and whether your battery needs to be serviced. View battery usage information and easily manage your device's battery life.
Open the settings app
Select battery.

save battery on iPhone 8.

Tap battery health.

save battery on iPhone x
Click Here to Check Battery Health on iPhone
How to Store Your iPhone's Battery Long Term
Do not fully charge or fully discharge your device's battery.
Charge it to around 50 percent.
If you store a device when its battery is fully discharged, the battery could fall into a deep discharge state, which renders it incapable of holding a charge.
Power down the device to avoid additional battery use.
Place your device in a cool, moisture-free environment that's less than 32° C (90° F).
If you plan to store your device for longer than six months, charge it to 50 per cent every six months.
Follow our walkthrough above to find out how to save battery on iPhone and get some useful tips that will you help to find out how to save battery on iPhone 11 further.