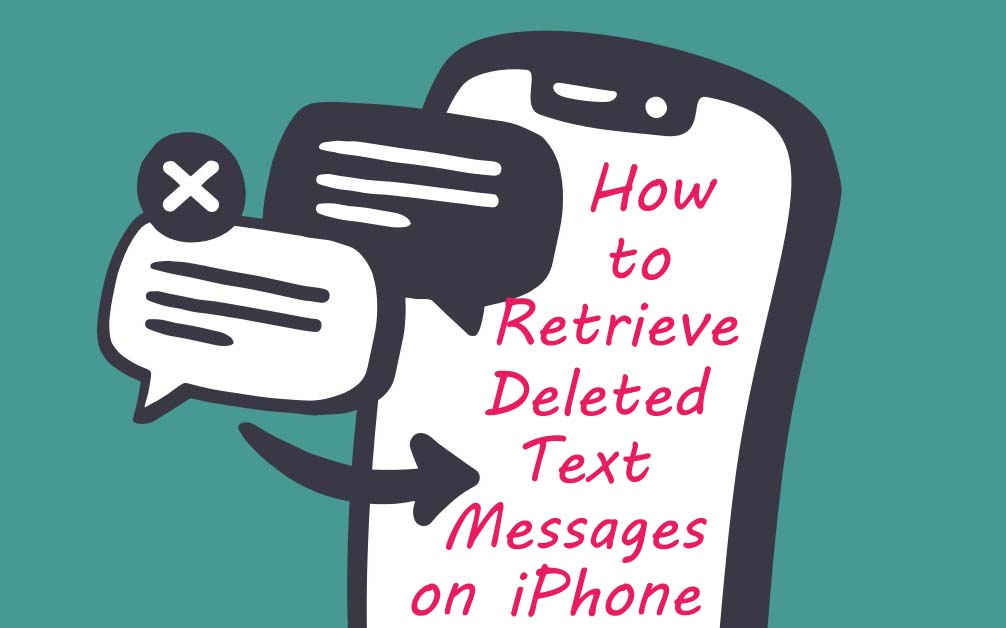 Are you looking for recover deleted messages on your iPhone, now you are in right place. Today we will share the step by step guidance on how to retrieve deleted text messages from iPhone for our readers.
Clearing or deleting messages on your iPhone doesn't mean the data is permanently erase, it's just been filed away differently. When you delete a message/conversation on your iPhone, it is not actually deleted from there, then your messages are just marked for deletion, which still makes them inaccessible and invisible to us. They still exist on our phones for a short time until the files are delete permanently or eventually overwritten.
So you can retrieve deleted messages on the SIM card as data files. If you accidently deleted some important messages, don't worry, then there is a good chance that you restore the accidently deleted messages. Now, we lets see how to retrieve deleted text messages from iPhone.
How to Retrieve Deleted Text Messages From iPhone
---
We will tell you all we know about how to retrieve deleted text messages on iPhone. All the methods below will also work for restore deleted text messages.
1.

How to Recover Text Messages on an iPhone Using iCloud
iCloud backups are a great way to recover deleted text messages from an iPhone. If you back up your iPhone to iCloud regularly, you should be able to use this method to get deleted messages back.
Open the Settings app on your iPhone.
Tap on your apple id profile at the top.
Select "iCloud."
Scroll down and tap on "iCloud Backup".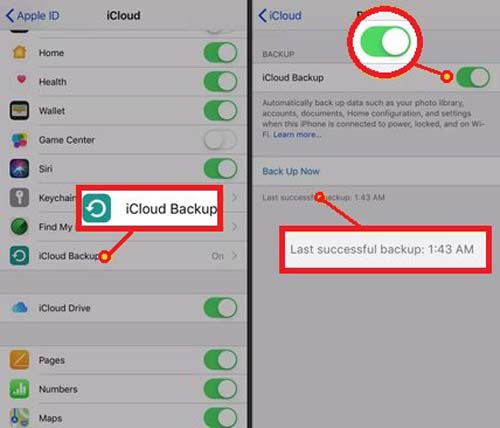 Now, you'll see a list of backups for your devices and you can tap on your iPhone backup.
Check that your phone has been backed up recently (just in case).
Go back to the main "Settings" menu.
Tap "General".
Scroll all the way down and select "Reset".
Select "Erase all Content and Settings."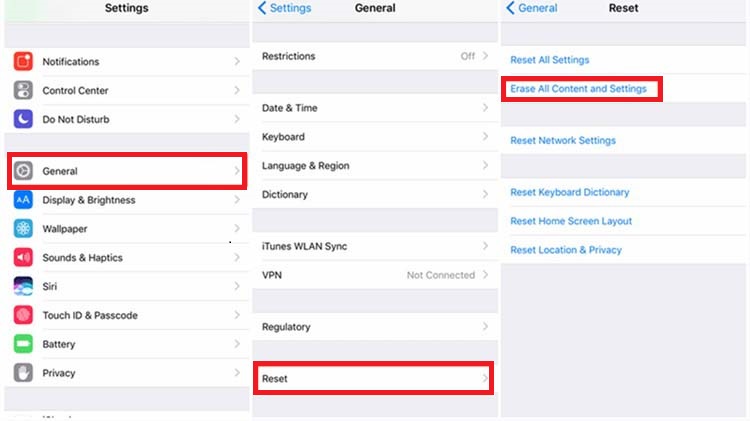 The pop up screen will appear, choose "Erase Now" in the pop-up message.
Now, your iPhone has been totally erased. Your iPhone will take a few minutes to reset to factory conditions. After that, you'll see the welcome screen. Go through the first few steps.
Follow the on-screen instructions until you come to the "Apps & Data" page.
On the Apps & Data screen, choose "Restore from iCloud Backup."
Enter password to sign in to iCloud, if prompted.
Choose which backup you want to restore from the list of iCloud backups, each of which is dated. Pick the last backup that your phone had the text on.
---
2.

How to Recover Text Messages on an iPhone Using iTunes
The above method is doesn't work for you, follow below instruction, iTunes might also be help to recovering accidentally deleted messages. This method requires having a backup before you deleted messages on iPhone and resetting your device.
Note : Restore deleted text messages means you will need to reset your device completely. All the data on your iPhone will be erased and replaced with data from the backup.
To Recover Text Messages on an iPhone Using iTunes follow below steps
Connecting your iPhone to the computer. iTunes will open automatically. If not, just click the program and open it up.
Then click on the phone icon in the top-left corner of the screen.
Now select "Restore backup". It will get back the data backed up from your iPhone, including your deleted text messages.
Choose the backup you want to restore from. You will need to remember/calculate which backup contains the messages you want to restore. If you are not sure, just choose the latest.
Note : If this option is grayed out, you may need to change your backup preferences (on the left-hand side of this screen) from iCloud to This Computer. You can always change this back after you find the text you need.
Now restore is in progress. Wait until it is finished. As long as you haven't backed up subsequent to deleting those text messages, they should now appear on your phone handset.
Note : If you have never backed your iPhone up to your computer, or backed it up when you didn't have that text, this method will not work.
---
3.

Third-Party Apps For Recovering Texts on Your iPhone
The final option to recover deleted messages on your iPhone is to use a third-party app which is quite a resourceful tool. Bear in mind that the message recovery app developers are very aware of what an excellent instrument this is so you may find yourself spending some money to download and use it.
Some of the most popular message recovery apps are:
WonderShare Dr.Fone for iOS
Tenorshare iPhone Data Recover
PhoneRescue by iMobie
Enigma Recovery
Final Words
Well, now that you've learned how to recover deleted messages on iPhone in a number of ways. Choose any which one is suitable for you! If you've tried an app for recovering deleted text messages, let us know your experience with that, as well.
Thanks for Reading..!!!