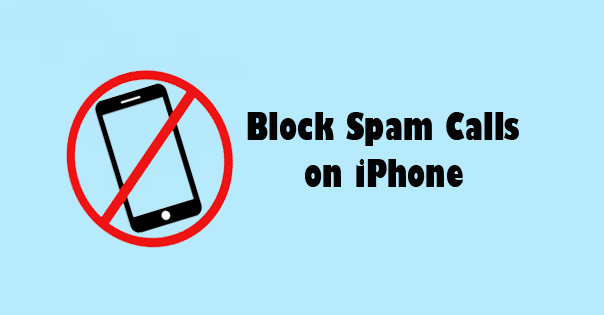 Are you looking for block spam calls on iPhone, now you are in exact place. Today we will share the step by step explanation of how to block calls on iPhone 2023.
According to research, nearly half of Phone Calls are scams. Whether you want to stop receiving robocalls or there's someone in your life that you just don't want to talk to, blocking numbers on your iPhone is easy. Blocking calls on an iPhone is pretty straightforward and the best thing is, the recipient who's been blocked won't know you've blocked them.
Types of Unknown Calls
Robo Calls : A robocall is a call that delivers pre-recorded messages through auto-dialing software to millions of people each day. When you are hearing recorded message instead of a human being while answering your phone call means you are listening a robocall.
Spam Calls : Spam call is nothing but a telemarketing phone call. Just like spam email, a spam phone call is unsolicited. The calling phone numbers have the same area code and exchange as the recipient of the call.
In other words, "Spam call is a type of unwanted call that occurs when a person or company calls an extremely large number of people at once. Often, these calls are identified and labeled with a spam risk label."
Fraud Calls : Fraud calls can defined as Phone fraud, or more generally communications fraud, is the use of telecommunications products or services with the intention of illegally acquiring money from, or failing to pay, a telecommunication company or its customer.
"Scam calls are a form of fraudulent activity with the goal of stealing your money or your information. Similar to email scams, phone scams often present a bargain for merchandise, or something completely free (such as a free prize or winning a contest)."
Now, lets know how to block spam calls on iPhone 8/iPhone 7/iPhone 6/iPhone 11/iPhone 13/iPhone xr/iPhone 12 whatever you have.
How to Block Calls on iPhone
---
Now a days 90% of unknown phone calls are trying to sell you something, and many of them are scams. Unwanted calls are widely seen as a nuisance. Technology makes it cheap and easy for telemarketers and scammers to make the calls over the internet. But luckily we have an option to block unknown calls on iPhone.
1. How to Block Calls on iPhone (Block Number One By One)
Is some of unknown repeated calls annoying you? If you want to block spam calls on phone, Don't worry. Here is the way to stop unwanted calls on iPhone one by one,
You need to start by accessing your list of recent callers, so open the Phone app.
Tap on the Recents tab at the bottom of the screen.
Click the 'i' symbol next to the unwanted number.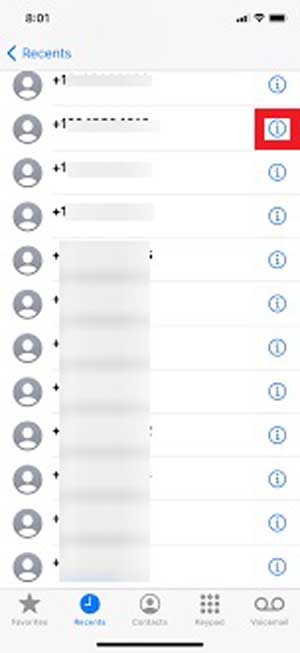 Scroll down and tap Block this Caller.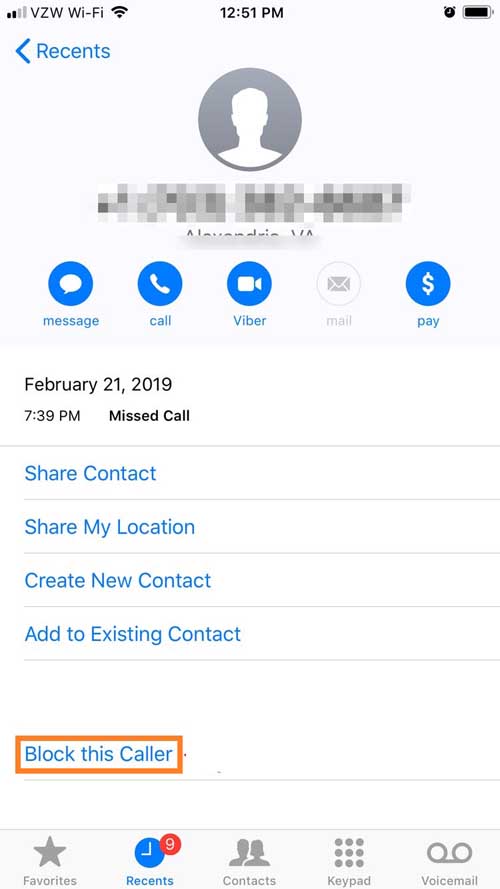 Then, tap block contact to confirm your decision. You won't be bothered with any calls, texts or FaceTime calls from that number.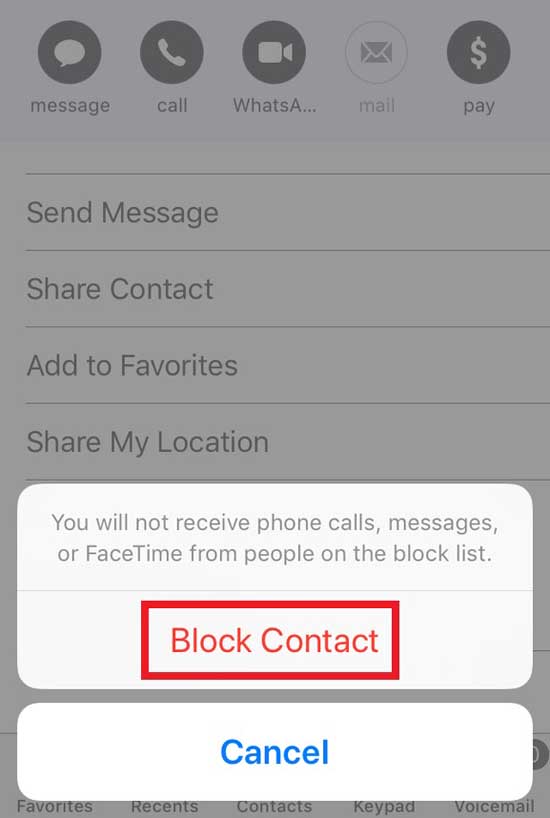 2. Silence Unknown Call
Spam calls are annoying, so you can't block all the spam calls. But your iPhone can silence unknown callers, so your iPhone won't ring. To silence spam calls follow below steps:
Open Settings from your Home screen.
Tap Phone.
Scroll down the menu a bit and tap "Silence Unknown Callers".
Tap the "Silence Unknown Callers On/Off switch". The switch will turn green when the feature is enabled.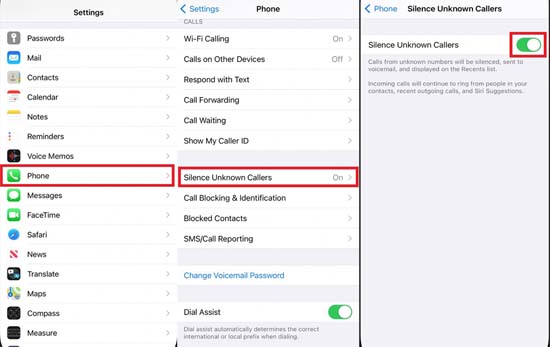 Now unknown callers will go straight to voicemail, and your iPhone won't ring at all.
3. Stop Spam Calls on iPhone Using APPs
If you're tired of robocalls and spam calls on your iPhone, and have a question that how to stop spam calls on my iPhone. There is a good news. You can install call blocking apps for iOS that work well and can help protect you from annoying scam callers. With the help of these apps we can block phone calls on iPhone. Find out which are the best free and paid apps to block spam calls on your iPhone.
The following apps are available in Apple Store to block all unknown calls on iPhone,
YouMail : YouMail uses smart technology to detect spam calls and robocalls. It plays the "Out of service message" whenever such types of calls happen. Its premium service provides an option for a second phone number. It can be sent directly to voicemail and be forwarded to your cell phone. Therefore YouMail is one of the best spam call blocker iPhone.
TrueCaller : Best free option. Among the most-used free spam blocking apps on the market with a large number of useful features.
Nomorobo Robocall Blocking : It is a premium app that offers a 14-day free trial. It has an excellent rating and it has easy user interface. With this app you can block spam calls and texts. It identifies calls from robocallers.
How to Block All Calls on iPhone
---
Do Not Disturb lets you silence calls, texts, alerts, and notifications while your iPhone is locked. You can turn it on/off manually or set on a schedule.
Go to Settings > Do Not Disturb to get started. Here you'll find a wide range of options. I personally set mine on a schedule. But if you want to block spam/robocalls, you'll want to keep it on all the time.
Next, scroll down to to the Phone section, and tap on "Allow Calls From". If you tap on Contacts, then you'll only receive calls and texts from people in your contacts list.
Now, you'll also see an option called Repeated Calls. If you turn this on, a person who calls you a second time within three minutes will get through and the call won't be silenced.
How to Block All Calls on iPhone Except Contacts
---
iPhone has an option to block all incoming calls and allow some calls from your contact. To block incoming calls on iPhone, follow below steps:
Open Settings.
Tap "Do Not Disturb".
Toggle on Do Not Disturb.
In the Phone section of the screen, tap "Allow Calls From"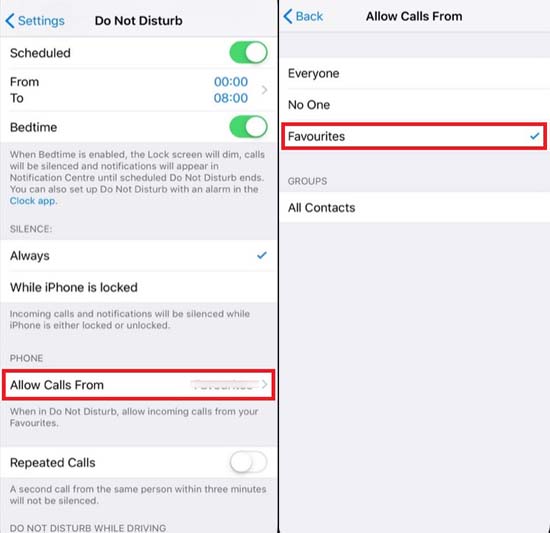 Now, you can choose to allow calls from Everyone, No One, or the contacts you've selected as Favorites and also make an exception for an existing Contacts group.
The above steps block all calls on iPhone except contacts.
Read more about "Do Not Disturb"
Final Words
We hope you find this article how to block spam calls on iPhone is useful, if so please do well to share with you friends and family and don't forget to leave a comment and if you have any question, please ask we will reply you. Thanks for reading and keep smiled.