Are you looking for check your iPhone's battery health, now you reached a best article. Today we explain you how to check battery health on iPhone.
It's very useful to know how to check the battery health of your iPhone, if your iPhone seems to be constantly running on low power. You might find that your battery health is actually decadence and that's why you're always reaching for a charger even when you've only used your iPhone for short time.
How to Check Battery Health on iPhone
This section teaches you how to find your battery health. It is important to find battery health, because of your iPhone's battery needs to be replaced or not. You can check for a warning message in the Battery section of your iPhone's in below three ways.
1.

Check Battery Health on iPhone
Go to Settings on your iPhone.
Scroll down to "battery" and tap on it.
Then tap "battery health".
Now your iPhone displays the information about your battery's capacity, peak performance, and whether your battery needs to be serviced.
2.

Check Battery Health Details Using CoconutBattery
With coconutBattery you are always aware of your current battery health. It shows you live information about the battery quality in your Mac, iPhone and iPad such as age of your devices and their batteries, how often the battery was charged, your battery health, etc. You can also save the current health information, so you can see the changes of your battery over time.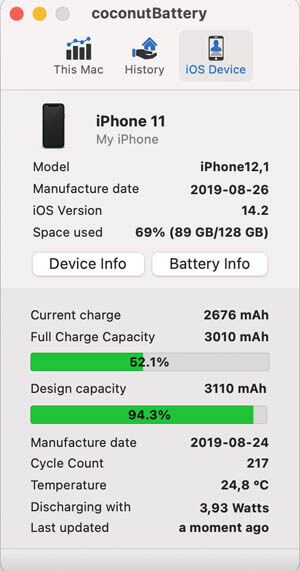 After launching the app and plugging in your iPhone via the Lightning cable. Now the app will provide the useful details about the battery of your device, such as its full charge capacity, design capacity, cycle count, etc.
Click Here to Get CoconutBattery APP
3.

Check Battery Health Using Console App
We can also know the battery health of iPhone 12 using the console app on you Mac. To check your battery health follow below instructions,
Connect your iPhone into your mac using lightening cable.
Launch Console.
Click on your iPhone under the Devices column in the left side.
Type "batteryhealth" in the search field.

Now you can check the value of BatteryHealth. If you see BatteryHealth = Good, you need not to replace your battery. Suppose, there is no results appear, you may have to unlock the screen of your iPhone and check the battery health.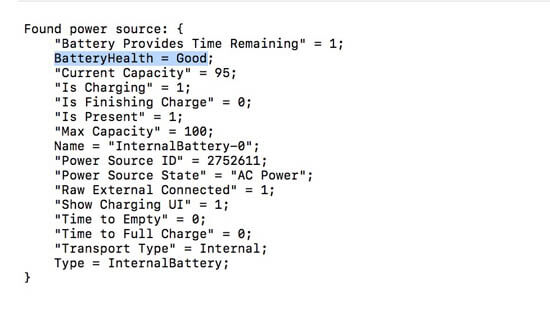 4.

Check Battery Health on iPhone Using Third-Party Apps
You shouldn't waste any time searching and testing third party apps from the APP store that claim to give you battery information. Since the release of ios10, apple has cut off access to battery details for third-party apps in the app store, making these app completely useless.
Also Read : How to Add Widgets on iPhone.
---
View Your Battery Usage Information
Battery Suggestions : The battery screen may also offer insights and suggestions to help improve your battery life and capacity. This is a fairly obvious one, but one of the biggest drains on your battery health is regularly having your display at full brightness. keep it lower unless essential.
Battery Life Numbers : The battery screen charts several pieces of information to give you a better understanding of the battery's health.
Battery Life Graphs : The graph below tracks the battery level and display the amount of battery charge for your device over the last 24 hours. each line in this chart represents 15 minutes, The darker green lines showing the times your device was connected to a charger The next graph displays activity, when your device's screen was on, and for how long it was active per hour-long intervals.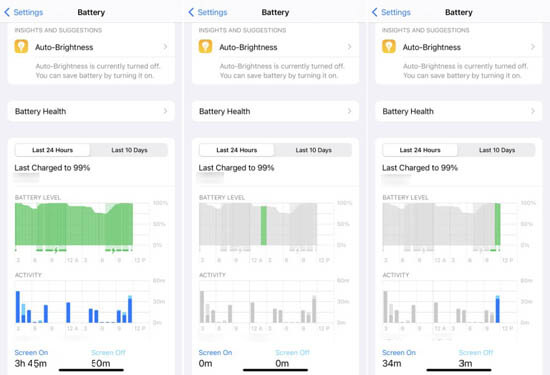 Last Charged : The last charge level indicates the last time your device was connected to a charger and the percentage of the charge when you disconnected it from the charger.
Battery Usage By App : Starting with the biggest battery hogs, by default the tool shows you the percentage of battery charges used by each app. Tap the link to show activity or specific app and the information changes to display the amount of time the app has been using the battery, both in the foreground and in the background.
Additional Tips to Preserve Your Battery on iPhone
Reduce Background Activity : Launch the settings and tap on general=>background app refresh Switch off any app whose background access you want to minimize.
Low your screen brightness.
Turn switch on the "optimized battery charging" feature in your phone.
Your phone regularly waking up for a notification alert can be damaging to battery health. So, turn off non-essential notifications.
Enable low-power mode on iPhone to extended the battery charge.
Keep your iPhone updated. It may help to dismiss annoying update notifications.
Follow our walkthrough above to find out how to check iPhone battery health and get some useful tips that will help you stretch your device's battery life further. We hope that this guide is very useful to for those looking to go a little more granular about the status of their iOS device's battery.
Thanks for Reading..!!!